THE NATIONAL HISTORICAL MUSEUM OF THE ITALIAN LIBERATION CORPS "ALDO MORO"
The Italian Liberation Corps was an operative military unit of the Italian Co-Belligerent Army that was formed after the armistice of Cassibile (September 8th, 1943) in southern Italy by the First Motorized Group. Later, its action was continued by the Combat Groups.  It was created in Scapoli, headquarters of the Allied Command, located at the Palace of Marquis Battiloro, where the Monte Marrone military action was conceived and directed, erasing the humiliation of Cassabile, which had led General Alexander to state that the signing of the armistice "…confirmed the disappearance of Italy from the group of great powers".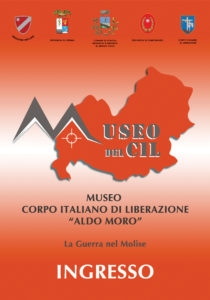 The Italian Liberation Corps was the first "organic" unit of the reconstruction of the Italian Armed Forces with the "evolution of relations between allies on an equal level of authority".
In the National Historical Museum of the Italian Liberation Corps of Scapoli, dedicated to the Statesman Aldo Moro, the birth, the consolidation and the disbandment of the Italian Liberation Corps are illustrated, through historical documents and film from the Second World War.
The opening times of Museum are the following:
(IMPORTANT NOTICE:  The Museum of the C.I.L. is closed to the public in compliance with the new measures to combat and contain the epidemiological emergency from Covid-19 provided for by the DPCM 3 November 2020.).
(1st May – 30th September)
From Friday to Sunday (except public holidays):
– from 10.00 am to 12.00 pm
– from 4.00 pm to 6.00 pm
(1st October – 30th April)
From Saturday to Sunday (except public holidays):
– from 10.30 am to 12.00 pm
– from 4.00 pm to 5.30 pm
To visit the Museum during closing days you can have a booking sending an email to info@comunescapoli.is.it with details (day, time, number of visitors) at least one week before the visit (at least 5 people).
Full price ticket: 2,50 Euro
Reduced price ticket: 1,50 Euro