The Trade Show and the International Bagpipe Festival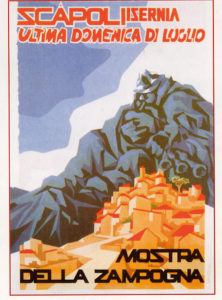 On July 27th, 1975, the first edition of the "Bagpipe Trade Show" was held in Scapoli, designed by the Mayor, Pasquale Vecchione, to guarantee the survival of the millenary instrument of pastoral civilization and its tradition, drawing regional and national attention to the ancient bag-shaped instruments to restore enthusiasm, pride and awareness to Bagpipers and artisans, both custodians of ancient knowledge.
Organized by the Municipality of Scapoli and the Touristic "Pro Loco" association, with the collaboration of the Provincial Body for Tourism of Isernia, the event was soon deemed a success and met with the enthusiastic participation of Bagpipe craftsmen and musicians, whose cultural and traditional presence had languished, also due to belief that it was part of a "subordinate culture". In the following years the Trade Show was accompanied by the International Bagpipe Festival, having become a point of reference for traditional folk music on a European level. Its significant cultural content, in terms of an occasion to learn about customs, traditions, history, to contrast different cultures and, in order to stimulate artisan promotion, makes the Trade Show and International Bagpipe Festival a mandatory meeting point for ethnomusicologists, eminent cultural personalities and illustrious foreign experts, bringing Scapoli to an international forefront, as the "Capital of the Bagpipe". Another prestigious recognition is that of the commemorative stamp from the "Europa 2014" series, for typical national instruments, dedicated to Scapoli's Bagpipe, which displays a Bagpiper from Scapoli in his tradition clothing while playing the Bagpipe.